If you don't see what you are searching for, please call us to assist. Many items not shown on the website.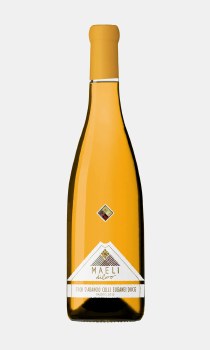 Maeli Moscato Natural
$21.99
Vinification
Destemming and soft pressing, maceration on the skins for three days, pressing, fermentation on natural yeasts without added sulphites, and with no thermal control, 20% of the mass is fermented in used oak barrels and the rest in steel tanks. The two parts are united towards the end of March. In-the-bottle secondary fermentation using the starting must.

Technical Information
Varietal Composition: 100% Yellow Muscat
Alcohol: 12%
TA: 5.3 g/l
p H: 3.46
RS: 0.9 g/l
Tasting Notes
The color of this wine is an oscillation of shades of golden yellow with light orange and amber highlights. The milky iridescence is the result of the yeasts suspended in the bottled wine according to the time-honored method. The intense aroma releases nuances of flowers and yellow fruit such as golden apples and peaches and exotic fruit such as the papaw, which together with the dried fruit, crunchy almonds and nuts, sulphurous and glazed notes give the wine a fuller and more interesting bouquet. It is warm on the palate with softness balanced by a pleasant sensation of tannins gleaned from the maceration of the wine on the skins. When sipped it echoes the aromas perceived on the nose with lengthy taste and olfactory persistence. The finale is characterized by an inter estingly powerful yet sapid mineral wake, which invites one to quaff.