If you don't see what you are searching for, please call us to assist. Many items not shown on the website.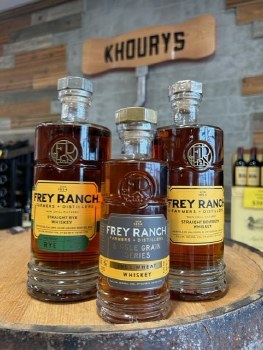 Frey Ranch Bundle
$130.00
?? FREY RANCH BUNDLE ??

Limited supply! We're excited to give some local love to our friends at @freyranchdistillery and put together this amazing bundle for $130!

The Frey Ranch Bundle includes…
?? FREY RANCH STRAIGHT BOURBON
?? FREY RANCH RYE
?? FREY RANCH SINGLE GRAIN WHEAT 375ml

Distillery Notes - "Produced with soft white winter wheat grown in 2014 on the Frey Ranch in Fallon, NV. The extended aging regiment in full 53-gallon whiskey barrels impart unique flavors and an aromatic profile of Bananas Foster, butterscotch, and orange peel, backed up by a long finish of Nutella, honey, tea chest, and espresso. 50% abv"

?? Individual bottles of the Single Grain Wheat are available for $59.99!