If you don't see what you are searching for, please call us to assist. Many items not shown on the website.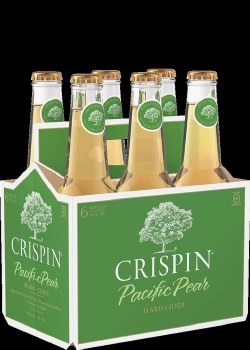 Crispin Pacific Pear 6pk
$8.99
"Crispin Pacific Pear is elegant and bright, with intense fresh pear flavor and subtle woody complexity."

Appearance
Medium straw, brilliant. No head retention. Slightly effervescent.

Aroma
Fresh ripe pears with floral notes and hints of stone fruit; slight earthiness.

Taste
Sublime ripe pear. Slight woodiness through the mid-palate with subtle stone fruit or pear skin tartness throughout.

Mouthfeel
Softly effervescent, light bodied.

Finish
Ripe pear with subtle pectin tones.

4.5% ABV, Certified Gluten-Free
Filtered cold for brilliant clarity. Serve chilled.