If you don't see what you are searching for, please call us to assist. Many items not shown on the website.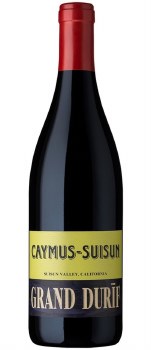 Caymus Suison Grand Durif
$49.99
"Suisun (su-soon) Valley, which lies to the Southeast of Caymus, is only a 40-minute drive and reminds the Wagner family of Napa Valley 40 years ago. With its warm days and cool nights, the region is known for delicious stone fruits and walnuts -increasingly, it is also gaining recognition for its wine. Durif is synonymous with Petite Sirah, the widely grown grape in the region - they added 'Grand' to the name of the Suisun-grown Durif because it has a grand style. With lush textural tannins, this wine is rich, supple and totally enjoyable."