If you don't see what you are searching for, please call us to assist. Many items not shown on the website.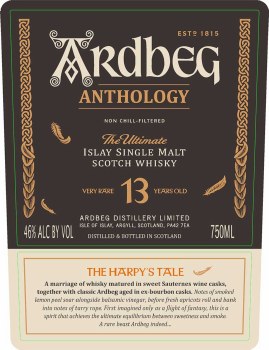 Ardbeg Anthology 13yr
$169.99
There's an appetite for all things rare on Islay. Especially at Ardbeg. You'd think that the rare nature of our whisky would be enough, but it's Islay and her oddities that really stir us.
The Ardbeg Anthology Collection is inspired by tales of unbelievable encounters – legendary brushes with the strangest creatures ever purported to stalk Islay.
Inspired by the seldom-seen Harpy – a winged beast said to inhabit Islay – this legendary edition is a first for the Distillery. The Harpy's Tale has been matured for 13 years in rare Sauternes wine casks and married with classic Ardbeg ex-bourbon. After over a decade in the cask, soaring smoke swoops into sweetness as Ardbeg's unmistakable character wrangles with the richness of the Sauternes casks. A supreme aged expression… the taste almost as sensational as the tale…
Non chill filtered at 46%.