If you don't see what you are searching for, please call us to assist. Many items not shown on the website.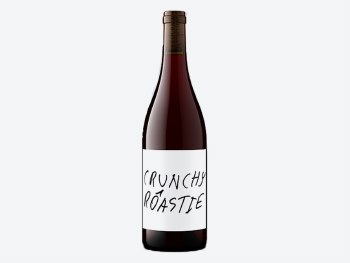 Stolpman Crunchy Roastie
$21.99
Background

The 2019 debut vintage of Crunchy Rôastie represents the latest evolution in our pursuit to make fresh and delicate Syrah. The key is to pick Syrah early while still "crunchy", with high acidity and low potential alcohol. Then, we utilize whole-grape, un-crushed carbonic fermentation so as not to extract coarse, under-ripe tannin – leaving the wine feathery and chill-able. To ensure a pure, luscious fruit profile we utilized the age-old Cote Rôtie method of co-fermenting a small percentage of viognier that heaps on pretty floral aromatics to the darker, brooding Syrah profile.

Vintage

2019 marked the second vintage in a row without harvest-time heat spikes. Facial Expressions around the team conveyed our shared thoughts and feelings without saying a word – a certain giddiness that we had a shot at replaying 2018 armed with that year of heat-free experience. And, the acids were hanging even higher and fresher than 2018. The long, slow ripening allowed for subtle layers of flavor complexity throughout all of the 2019 wines.

Sensory

Deep, luscious blue, purple, and black fruit welcomes one into the smooth, supple, billowy mouthfeel. Classic Syrah notes of olives, olive tapenade, and "roast" meats compliment the fruit purity from the nose all the way through to the seamless, soft finish. Deep enough to pair with summertime grilling yet so smooth it gets yummier and crunchier – almost refreshing - drinking it with a chill. As the bottle opens up with air, red-fruit appears above the blue-black and a nice spicy framing of freshness begins to lift the palate.

The giving "come-to-mama" yumminess seems weightier than its light 12.5% alcohol would suggest.