If you don't see what you are searching for, please call us to assist. Many items not shown on the website.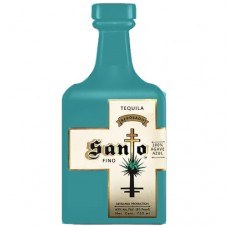 Santo Reposado Tequila
$49.99
Legendary rocker and spirits pioneer Sammy Hagar and Emmy Award-winning chef and restaurateur Guy Fieri joined forces to bring to life the premium portfolio of premium tequilas. Created with a third-generation Master Distiller, Santo's agave expressions are handcrafted in small batches to highlight the unique flavors of agave in every batch beginning with sustainably sourced 100% Blue Weber Agave.
?
Sammy's history of making world-renowned tequila, Guy's world-famous taste buds, the world's best agave-growing environment, and award-winning craftsmanship come together to produce Santo's taste revelation: "a higher spirit."

Santo Tequila Reposado embodies the flavorful characteristics of 100% Blue Weber Agave, distilled and aged to perfection. Let the spirit shine, and grant eternal flavor.

Our reposado begins in the barrel using our amazing blanco to get the process started. The blanco is rested in lightly charred used American oak bourbon barrels for four to five months. After resting, the blanco is now transformed into our reposado. This critical time in oak imparts incredible flavors which creates a smooth, easy drinking tequila. Sammy started out years ago with only a reposado and created a sensation with a great brand all of his fans and afficionados of tequila will surely remember. You'll see he's still got it when you taste this wonderful reposado.