If you don't see what you are searching for, please call us to assist. Many items not shown on the website.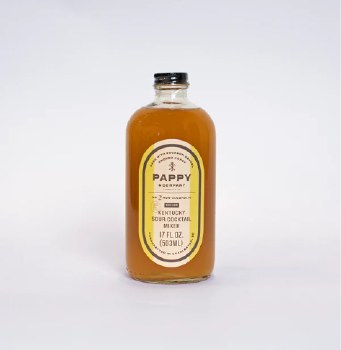 Pappy Sour Cocktail Mixer
$20.00
It has taken us a while to introduce another cocktail mixer to our repertoire, and for good reason. This is one of those things we want to get just right. Mixers can be overpowering, too sweet, or full of unnecessary ingredients. We have been busy behind the scenes with our partners at Bittermilk to get the balance just right, and once you try our Kentucky Sour Cocktail Mixer we think you will agree, we did it!

Wildflower honey is slowly smoked over Pappy Van Winkle bourbon barrel staves, infusing a gentle hint of smoke to the natural sweetness. Pure lemon juice adds a refreshing tartness and bitter orange peel balances it out for a smooth, subtly sweet and fresh mixer with notes of honeyed fruit and a wisp of smoky barrel-aged flavor. Our Kentucky Sour Cocktail mixer not only makes crafting your cocktail as easy as pour, stir, sip, but it pulls double duty making two of our favorite cocktails: simply add bourbon for a delicious whiskey sour or shake with a lot of ice for a smoky twist on a classic margarita.