If you don't see what you are searching for, please call us to assist. Many items not shown on the website.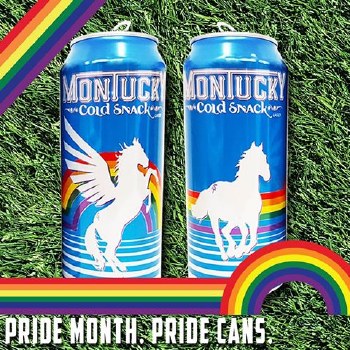 Montucky 16oz 6pk
$7.99
"Since our founding, Montucky Cold Snacks has been on a mission to provide a refreshing beer beer and sprinkle a lil' magic on our local communities. When we sold our first Snack in Montana way back in 2012, our founders pledge to give 8% of our profits back to local causes. As our state-by-state expansion continues, we continue to give back 8% to the communities we serve. In addition to our 8% pledge, each of our team members spends 5% of their time (2 hours/week) out serving our local communities.

In the spirit of our core values, and after several requests from members of the LGBTQ community, in 2016 MCS began producing special edition Pride cans every year for Pride month (June). During that month Montucky Cold Snacks gives all 8% of profits from Pride cans and 100% of profits from swag sales back to LGBTQ organizations.

Please join us in celebrating Pride, helping create awareness about LGBTQ organizations, and raising money for these organizations and causes during Pride month! Please feel free to reach out to us with ideas you may have about Pride events in your area, we'd be excited to work with you!

The organizations we're working with in 2020 include: The Western Montana Community Center, Big Sky Pride, OutSpokane, The Pride Foundation, Cheer Colorado, One Colorado, Inside Out, Viviant Health, Outfront Minnesota, Courage MKE, Nashville CARES, and the LGBTQ Nashville Chamber of Commerce."