If you don't see what you are searching for, please call us to assist. Many items not shown on the website.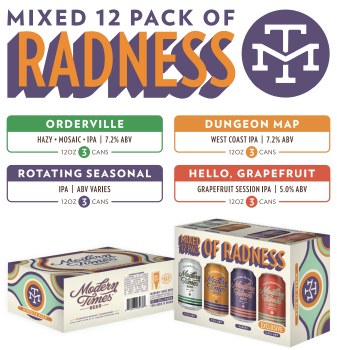 Modern Times Mixed Radness
$18.99
SO MANY.
HOP VARIETALS
A WHOLE BUNCH.
MALT VARIETALS
THERE'S GRAPEFRUIT IN ONE OF THESE BAD BOYS.
FRUIT VARIETALS
HERE'S WHERE TO FIND MIXED 12 PACKS
This beautifully appointed box of awesome contains 3 cans each of the following: two classic year-rounders, one seasonal stunner, and one exclusive can of unbridled radness. There's something for everyone—or just a bunch of stuff for you. We're not judging.