If you don't see what you are searching for, please call us to assist. Many items not shown on the website.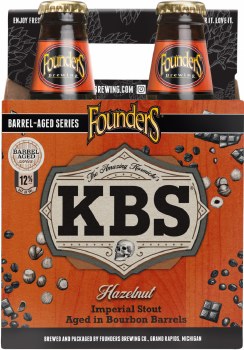 Founders Kbs Hazelnut 4pk
$24.99
IMPERIAL STOUT WITH CHOCOLATE AND HAZELNUT COFFEE AGED IN OAK BOURBON BARRELS
ABV: 12%
IBUs: 45
Calories: 340
Availability: Mar
The perfectly balanced and decadent drinking experience of KBS meets the classic taste of hazelnut. Taking this bourbon barrel-aged stout to a new level, KBS Hazelnut allows the existing premium coffee and chocolate notes to soar to new heights when accented by the nutty sweetness of hazelnut.