If you don't see what you are searching for, please call us to assist. Many items not shown on the website.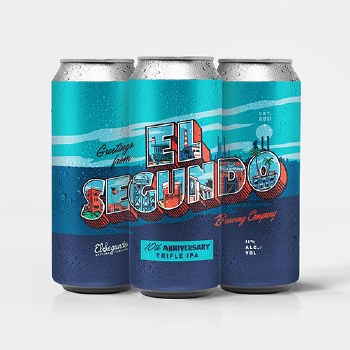 El Segundo Greetings From
$17.99
Style: Triple IPA
ABV: 11%
Hops: Mosaic, Citra, Strata, Simcoe, Amarillo, El Dorado, Chinook, Centennial, Loral, Nelson


It's people like you that made it possible for us to celebrate 10 glorious years of brewing beer! The traditional gift for a 10th anniversary is tin, but seeing as aluminum cans have long since replaced the tin can, please consider this our gift to you. And while the ABV of our anniversary beer has matched the number of years we've been in business, this year is a bit different. It's been a long while since we've shared a beer together, so in lieu of this extended deprivation, we're going one larger this year. In the paraphrased words of the great Nigel Tufnel, "these beers go to 11%!" Cheers to 10 years!