If you don't see what you are searching for, please call us to assist. Many items not shown on the website.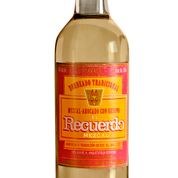 El Recuerdo Mezcal Abocado
$35.99
Abocado Con Gusano (Spanish for enriched with agave worm) for those who prefer the silky texture the agave worm adds to the Mezcal.

Color: bright straw yellow with gold sparkles.

Aroma: cooked agave with smooth herbal notes along the exotic aroma of the maguey worm.

Flavor: characteristics of cooked agave with sweet and bitter notes, and delicate smoke sparkles of great presence.
Origin: Oaxaca, Mexico
100% Agave Espadin
40% Alc./Vol.