If you don't see what you are searching for, please call us to assist. Many items not shown on the website.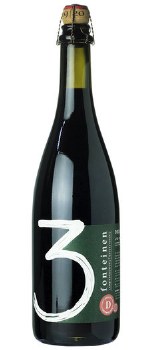 Drie Fonteinen Dornfelder
$49.99
Lambic - Fruit


9% ABV

No IBU


For this Druif, we used Dornfelder grapes from Wijndomein Hoenshof in Hoepertingen, Haspengouw region, Flanders. Dornfelder is a dark-skinned variety, originally from Germany. We co-fermented lambic with freshly-pressed-shortly-skin-macerated Dornfelder grape juice in an oak foeder. We let it sit for four months and blended the grape lambic with some fresh lambic wort for the "prise de mousse" in the bottle. The final fruit intensity is 51,7% of grape juice per litre of Druif Dornfelder. 100% 3 fonteinen.

EN 3 Fonteinen Druif maceration of grape (must) on / the co-fermentation of grape juice or wine with traditional lambic. No addition of juices, syrups or artificial sweeteners. Unfiltered. Unpasteurised.