If you don't see what you are searching for, please call us to assist. Many items not shown on the website.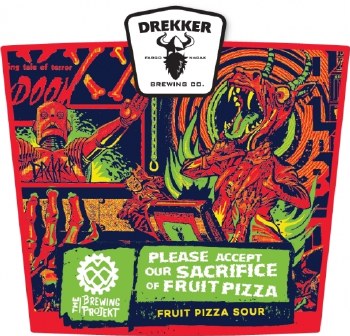 Drekker Please Accept Our
$6.99
Sour - Fruited

6.7% ABV

N/A IBU


We joined forces with our blood brothers at The Brewing Project and performed a secret magical ritual to bring forth the goodest of good times. To get this right and not accidentally bring forth the baddest of bad times we needed to present the gods with the tastiest of tasty treats and we know we were successful because we had a blast like we always do with those guys and our sacrifice of fruit pizza was accepted and celebrated by all the gods & goblins of the magical realm.
?
You can also try our offering to the gods & goblins. Please Accept Our Sacrifice of Fruit Pizza, a fruit pizza sour that's stuffed with strawberry, blueberry, kiwi, orange, cream cheese frosting, sugar cookies and NO LACTOSE!!!