If you don't see what you are searching for, please call us to assist. Many items not shown on the website.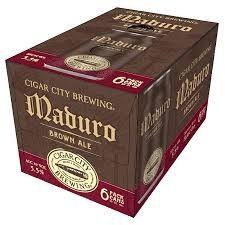 Cigar City Maduro 6pk
$8.99
"Aromas reminiscent of toffee and chocolate macaroons belie the low alcohol content and moderate body of this well-rounded English-style Brown Ale. Semi-sweet chocolate, almond and brown sugar flavors fill the palate but quickly dissipate into a dry, clean finish with notes of coffee grounds."