If you don't see what you are searching for, please call us to assist. Many items not shown on the website.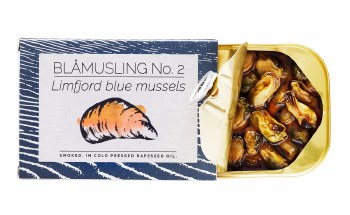 Blamusling No 1 Blue Mussels
$9.99
Blåmuslinger No. 1 Limfjord blue mussels
Marinated. With dill and fennel seeds.

In the cold water of the Danish inlet Limfjorden, 'blåmuslinger' (blue mussels) grow slow to acquire a particularly fine taste and texture. Most of them are then shipped off to foreign kitchens but some we keep for ourselves. With a marinade of cold pressed rapeseed oil, apple vinegar, dill and fennel seeds, FANGST brings you our version of the blue mussel.