If you don't see what you are searching for, please call us to assist. Many items not shown on the website.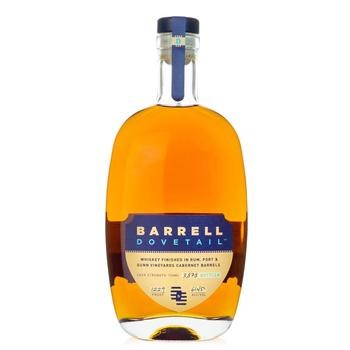 Barrell 10 Year Dovetail 750ml
$85.99
FLAVOR NOTES

Neat

Appearance: Rose gold with highlights of worn copper.

?

Nose: Opens with mature aromas both sweet (canele´, panna cotta, cre`me de noyaux) and savory (walnut oil, leather). This is followed quickly by a vast array of fruit derived both from the spirit (smoked apricot, grapefruit peel) as well as the cask treatment (sloe gin, damson jam). The aroma is high toned, pungently floral and herbaceous, with subtle, balancing pops of minerality.

?

Palate: Darker (cocoa, molasses, burnt marshmallow) and spicier (cola, nutmeg, Tellicherry peppercorn) than the nose, an effect well-complemented by the cask treatment and rendered more complex by the savory and herbaceous themes running throughout.

?

Finish: A sweet and elegant signature of rose jelly, chestnut honey, and Pineau des Charantes that also features hazelnut, eucalyptus, and Corsican mint.

With a few drops of spring water

An unexpected avalanche of orange and tropical notes of watermelon, lychee and vanilla on the nose."