If you don't see what you are searching for, please call us to assist. Many items not shown on the website.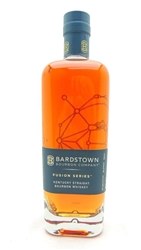 Bardstown Fusion
$65.99
"Fusion Series #3 is a blend of 60% of Bardstown Bourbon Company's three-year-old wheated and high-rye Kentucky bourbons along with 40% of 13 year bourbon from Kentucky to create a smooth, complex pour."

TASTING NOTES
The fusion between youthful and aged bourbon becomes immediately apparent on the nose. Green apple with honey join roasted nuts and caramel. These disparate profiles are unified on the first sip, coating the palate and finishing with extraordinary balance.