If you don't see what you are searching for, please call us to assist. Many items not shown on the website.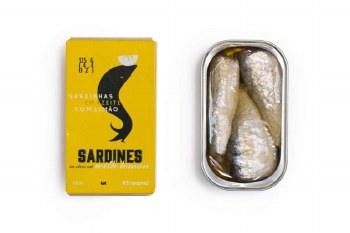 Ati Manel Sardines
$6.99
There are few matches more perfect than citrus and sardines. The lemon's gentle brightness cuts through the fishes' oils and pulls their natural flavor into delicious clarity.

Each tin boasts 4-6 fatty loins that come with skin and buttery-soft bones intact. They are big and beautiful and begging to find a home on your next seacuterie board. Delicious to enjoy on their own, we also invite you to pile them high on toast with lemon zest-whipped ricotta and sprigs of fresh mint.

TASTING: flaky, rich, umami
PAIRING: skin-contact wines
SERVING: soft cheeses, garlic bread
INGREDIENTS: Sardines, Olive Oil, Lemon, Sal
CAUGHT IN: Iberian Peninsula


The sardine, in the sea, is queen. On the surface, his kingdom is immense until he loses sight. In the depths, it is a treasure trove of landscapes, species, shapes and colors. But the queen felt lonely and ordered that company be sent to her. No, no, not from the sea, from other kingdoms that a culinary sage had heard of. From other places heated and animated by the golden light of the sun. They took him an orange. Not an orange. They took him an apple. Neither does an apple. And so on: they took this and this more. And this more and more that the queen refused. And a lemon? They asked him, already with little patience, extending his hand. And Sardine smiled, with imagination.

- Ati Manel
Store at ambient temperature until opened, sealed and refrigerated up to two days after opening. Traditional Portuguese method production (pre-cooked).