If you don't see what you are searching for, please call us to assist. Many items not shown on the website.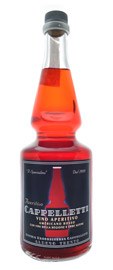 Apertivo Cappelletti
$19.99
"Traditional Italian red bitter for the Spritz
Pleasant dry finish from a traditional wine base
Yields a less sweet, more balanced Negroni or Americano
Color is natural, from the traditional carmine red
Venerable producer of aperitivi and amari in Alto Adige
Legal for all wine/beer licenses; works well in beer cocktails"